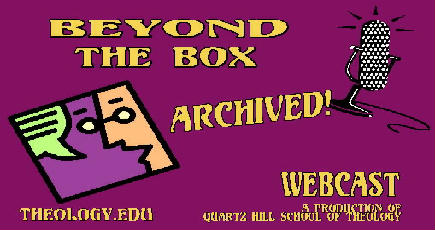 We don't think we have all the answers.
We just think we have lots of questions...
---
What Was Beyond the Box?
On Saturdays from 4:00 - 6:00 PM (U.S. Pacific Time) the faculty and students of Quartz Hill School of Theology once offered a weekly discussion format Internet Radio broadcast called Beyond the Box. The broadcast was conducted live, hosted by Quantum Networking Solutions, Inc. (QNet) as part of their experiment in Internet Radio. They ultimately decided not to continue online broadcasting and so that was the end of our show.
The participants in the broadcast included faculty and students of Quartz Hill School of Theology. Listeners were able to participate by email and through an 800 number. It was a lot of fun for us.
Theology is not a finished set of dogmatic propositions. Rather, theology is a wide open field of endeavor. God is not tame; he does not easily fit into a set of propositions, a simple equation, a small or large box. Solomon, as he contemplated the temple he had built, stated: "But will God really dwell on earth? The heavens, even the highest heaven, cannot contain you. How much less this temple I have built!" (1 Kings 8:27; parallel account 1 Chronicles 6:18). Metaphorically, we might argue the same. God is infinite and we are finite, thus, we can only comprehend a finite portion of him. There are more questions than answers in the field of theology. Our job on this program (like the theology courses at Quartz Hill School of Theology), was more to ask these endless questions, than to give settled answers.
---
To listen to the archived shows, you'll need Real Player on your computer. Don't have Real Player yet? Then click below, download it, and install it:

After that, you can click on any of the links below to listen to classic shows from Beyond the Box.
---
Archived Shows
January 8, 2000 - Science and Religion
January 22, 2000 - 20th Century Theology: Dietrich Bonhoeffer
January 29, 2000 - 20th Century Theology: Jurgen Moltman
---
Quartz Hill School of Theology is located in the facilities of Quartz Hill Community Church, 43543 51st Street West, Quartz Hill, CA 93536. Phone: 661-722-0891.
---
Comments, suggestions, ideas? Email us any time:

---
Return to the Home Page